With July 4th approaching, Mike and I were unsure of where we wanted to spend the holiday weekend but we knew we wanted to be on water. After discovering we were only 10 hours away from Lake Powell, he decided on our destination. Lake Powell did not disappoint. You can camp, swim, kayak, boat, hike, and more. The waters were a bright blue and the views were breathtaking. We almost went to the Grand Canyon (2.5 hours away from Page) on the last day but decided last minute to spend one night in Moab so we could hike in Arches National Park.
LAKE POWELL
---
TIME ZONE TIP:
Lake Powell is right on the border of Arizona and Utah. Arizona and Utah are in two different time zones. Arizona is on PST and Utah is on MST. Page (where we stayed) is in Arizona but Lone Rock Beach and the boat launch are 10 minutes down the road and are in Utah. Lake Powell is also a VERY big lake. We stayed on the southern part and the northern part of the lake is over an hour away.
---
The first night we decided to have our first camping experience on the Lone Rock Beach (Utah). You're allowed to literally pull up and camp anywhere on the beach after paying the fee to enter at the gate. This was a great experience I would recommend to anyone but please make sure if you do this, your vehicle has four-wheel drive and is capable of driving on the sand. There were many vehicles that got stuck because of the sand. Also be prepared to get sand everywhere if you do camp. We ended up coming back to this beach a few other days just to swim and layout because it was so beautiful. It is very hot so I recommend bringing something that will provide shade when you need a break from the sun. Also there is a nice big gas station just down the road from the beach entrance so if you need food, drinks, sunscreen, or ice, they have it all.
---
One of the more popular attractions in this area is the Antelope Canyon where you can hike in the skinny canyon located straight east of Page, AZ. This hike requires you to have a tour guide and unfortunately the area was closed due to the COVID19. There is a way to access the lower Antelope Canyon but you can only access it by water. Normally I would say rent kayaks or paddle boards then launch at the Antelope Point boat launch or the Antelope Marina boat launch but they were closed also due to COVID19. If you do plan on visiting Lake Powell and these ramps are closed but you still want to see Antelope Canyon, you can always rent wave runners or a small boat and access the lower Antelope canyon via Antelope Creek, which is channel of water that is part of Lake Powell. We fortunately were able to take my dad's fishing boat back into the canyon. We did not rent a boat but if I were going to, I found this website where you can rent a boat.
Link to Upper Antelope Canyon Trail Heads – Currently Closed to COVID19
Link to Lower Antelope Trail Heads – Currently Closed to COVID19
BELOW IS A MAP OF HOW WE ACCESSED ANTELOPE CANYON BY BOAT:
---
Another popular place to visit in the area is Horseshoe Bend. Horseshoe bend is only about five minutes south of the city of Page off highway 89. After you enter a gate and pay a fee to enter the parking lot, there is a paved pathway almost a mile to the viewpoint that oversees the canyon. Sunset is more popular than sunrise. I recommend going during the week or on a Sunday to avoid crowds. It costs $10 to get in. Make sure you bring water. Is is about a 15 min walk to Horseshoe Bend. (PS to get the best picture go to the right of the overlook, to get the best picture wait unil AFTER the sun has set behind the ridgeline.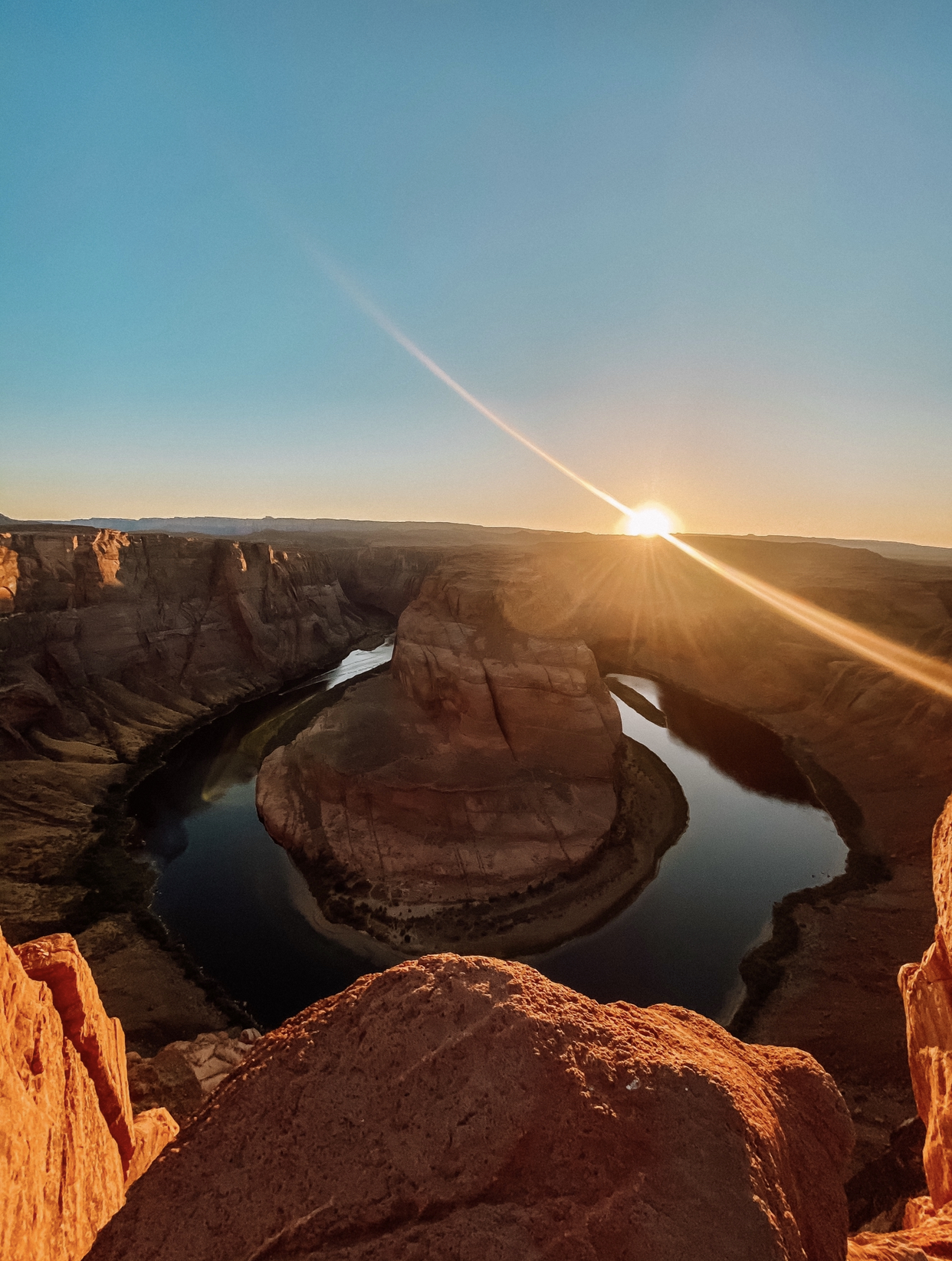 ---
KAYAKING (SKULL CANYON):
One of our favorite things to do is Kayak and there is plenty kayaking to do in Lake Powell. We rented our kayaks from Lake Powell Paddleboards and Kayaks which is a minute down the road from Best Western Plus in Page. They were a great help and even put the kayaks on or in your vehicle depending on what you're driving and strap them down. They will also give you advice or tips with a map telling you good places to kayak. Below is a map of the route that we did that they recommended to us:
We originally planned on launching at Antelope Point Launch and kayaking to the Antelope Canyons but with the launch closed we decided to drive back over to Lone Rock Beach and launch our kayaks off the beach there and kayak over to Skull Canyon. On a quiet day or a non-busy weekend, this may be an easier trip over to Skull Canyon but since it was a holiday weekend this made the water pretty wavy making it more of a challenge. Regardless it is well worth it! If you get lucky you may even catch a sighting of the Dessert Big Horn Sheep climbing on the canyons (show below). As you kayak to Skull Canyon there's a handful of areas to pull over and rest or go for a swim. When kayaking back into Skull Canyon, you will find twists and turns until you begin to see the water get muddy. Keep going until you come to a small beach area with weeds and you can't go any longer. We had to walk in the mud a little bit, this is where I recommend wearing Chaco sandals. Park your kayaks and start walking on the trail until you hit a dead end where the canyon comes to an end. This is a great area to get beautiful pictures of the narrow canyon.
---
Lake Powell HOTELS:
The hotel we stayed at was Best Western View of Lake Powell but there are many different hotels in the area you can stay at. We chose the Best Western because of the rates, but you have PLENTY of options. Most of which are located off highway 89 and S Lake Powell Blvd. You really can't go wrong with the location of whichever hotel you choose to stay at. They are all in the same relative area.
---
Lake Powell FOOD:
When it comes to food there are a handful of really good places to eat that are local. As for breakfast we didn't find much. We wound up getting McDonald's breakfast every morning while we were there. As for food, we bought lunch food from the grocery store in page and made sandwiches for lunch while we were out and about. A few of the notable places we ate dinner were Big John's Texas BBQ (great ribs!), BirdHouse (Mikes favorite fried chicken..get the honey butter glaze!), El Tapitio, and Fiesta Mexicana (food was good but the service was not as good). I'm sure there's a few other but they were closed due to the virus. I would say about 60% of the restaurants were closed but my top two are Birdhouse and Big John's.
---
MOAB + Arches National Park

MOAB HOTELS
:
There are alot of different hotels you can stay in Moab that are right on the main street in the downtown area. I would recommend staying at any of these because of the ease of access and walking distance to all the restaurant options. For a dog friendly hotel I recommend the Quality Suites Moab Near Arches National Park.
MOAB FOOD:
We only stayed here for one night so we did not get chance really to explore food wise. The day we got to Moab we stopped for lunch at Quesadilla Mobilla and they were some of the better quesadillas I've ever had so I highly recommend. That night we ate at a restaurant called Broken Oar which I would not recommend. The food was overpriced for the quality. The next day we got lunch at The Spoke on Center which was good. I recommend the BLT and their shakes. Moab Coffee Roasters was the one place I went to for coffee while I was there and it was really good! It is the "local" coffee shop. There are much more restaurants and coffee shops in Moab but unfortunately a lot of them were close due to COVID-19.
---
ARCHES NATIONAL PARK
TIPS:
Bring A LOT of water. Very dry and you don't realize how much water you are losing.

Bring salty snacks (holds water in your system longer)

Leave a yeti in your car with ice and drinks if you are hiking. That way you can refill with cold water when you get back from your hikes.

Start your hikes early before it gets hot.
---
ARCHES TO SEE
The Delicate Arch is most famous arch in the Utah. The trail is 3 miles out and back and being the most popular arch you will find many other people hiking to and from the arch. The first half of the trail isn't too bad but does incline quite a bit about halfway through. I would rate this trail as moderate not quite hard. Make sure you bring plenty of water with you on this hike because the heat from the sun along with the dry climate will wear you out! This hike is well worth it and definitely one of our favorites. Also make sure you stop and see the petroglyphs near the start of the trail just after you cross the bridge. Scientists believe they've been there since 1600 AD!
---
This is a very quick hike only being half a mile out and back. You can pretty much see them from your vehicle but definitely worth getting out and making the quick walk. If you want to, you can go around to the back side of the arches to get a different view and also see the back side of Parade of Elephants.
---
Sand Dune Arch is a very short "hike" of only .3 miles out and back located next to the parking lot. Although short, it is very beautiful with all the red tones due to the light bouncing off the rock and sand inside the crevices of the rock formations. If you'd like a longer hike you can also go see Broken Arch from this trailhead and it will be about a 4 mile out and back trail from the parking lot.
---
If you go counter clockwise, the trail to Landscape Arch is family friendly and very clear to follow and only 1.9 miles out and back. This is the point where the trail becomes more primitive and tough to follow with some steeper inclines and climbs. It's only about 10-15 minutes further down the trail and is a beautiful arch and view. If you want to see Devils Garden, follow the trail all the
---
This trail is outside of Arches National Park and it is one of our favorite hikes! Mainly because it is a little more secluded. We hiked this trail 3 years ago during our first visit. There is a part where you need to climb a little but it is mostly an easy hike.